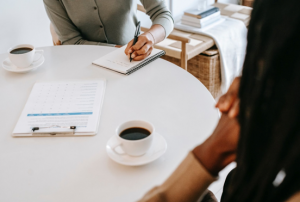 https://www.pexels.com/photo/crop-interviewer-writing-in-notepad-and-talking-to-job-seeker-5699480/
In today's fast-paced world, staying productive is more important than ever. As an entrepreneur or business owner, you may find yourself juggling countless responsibilities and struggling to keep up. One excellent way to lighten your workload and boost your productivity is by outsourcing tasks to a virtual assistant (VA). A VA is a remote, skilled professional who can handle various tasks to help you manage your time more effectively.
In this post, we'll explore 10 tasks that you can outsource to a virtual assistant to save time and increase your efficiency.
Email Management
One of the most time-consuming aspects of running a business is also one of the greatest benefits of hiring a VA – managing your email inbox. A VA can help sort and prioritize incoming emails, respond to simple inquiries, and flag important messages for your attention. This will save you hours each week and keep your inbox organized.
Social Media Management
Staying active on social media is crucial for building your brand and connecting with your audience. A VA can create and schedule social media posts, engage with followers, and track analytics to help you maintain a consistent online presence without sacrificing your valuable time.
Content Creation
Regularly producing quality content is essential for driving traffic to your website and maintaining customer engagement. A VA can help by researching and drafting blog posts, articles, or newsletters, freeing up your time to focus on other aspects of your business.
Administrative Support
A VA can handle a range of administrative tasks, from scheduling appointments and managing your calendar to organizing files and updating spreadsheets. By outsourcing these time-consuming tasks, you can focus on your core business responsibilities.
Customer Service
Providing excellent customer service is vital for retaining clients and maintaining a positive reputation.
A VA can help manage customer inquiries, track and resolve issues, and maintain a database of customer information, ensuring a seamless experience for your clients.
Market Research
Understanding your target audience and staying informed about industry trends is crucial for business success.
A VA can conduct market research, monitor competitor activity, and gather relevant data to help you make informed decisions about your marketing strategy.
Event Planning
Organizing events, whether in-person or virtual, can be a complex and time-consuming process. A VA can assist with event planning tasks, including managing guest lists, sending invitations, coordinating logistics, and even sourcing venues or vendors.
Travel Arrangements
Travel, both for business and personal reasons, can be time-consuming to plan and coordinate. A VA can help by researching and booking flights, accommodations, and transportation, as well as creating detailed itineraries to ensure your trips run smoothly.
Graphic Design
A visually appealing brand is essential for attracting customers and making a lasting impression. A VA with graphic design skills can help create eye-catching visuals for your website, social media, and marketing materials, ensuring your brand stands out in a crowded marketplace.
Bookkeeping And Financial Management
Keeping track of your finances is a critical aspect of running a successful business. A VA with bookkeeping experience can help manage your accounts, process invoices, and track expenses, giving you a clearer picture of your financial health and allowing you to focus on growing your business.
Conclusion
Outsourcing tasks to a virtual assistant is an efficient and cost-effective way to boost your productivity and free up valuable time. By delegating these 10 tasks to a skilled VA, you can focus on what truly matters: growing your business and achieving your goals. Start exploring your options today and discover how a virtual assistant can revolutionize the way you work.