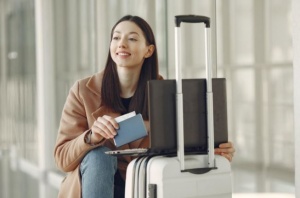 Do you envision yourself visiting faraway places? Do you dream of diving into a culture and getting an authentic experience? Imagine yourself chatting in French to an intriguing Canadian at a café in Montreal while watching the snow falling outside the steamy windows. Maybe you would prefer ordering a bagel and lox at an authentic New York deli and feeling like a real city dweller. 
For those with fantasies of traveling the world, a career as a flight attendant or pilot used to be the perfect match. However, with travel being limited and job retrenchments happening at every turn, the outlook for a career in hospitality or tourism is uncertain. This doesn't mean that you can't pivot your plans and maintain the same trajectory to maintain your goals of working abroad. If you are always dreaming about going overseas and working abroad, then have a look at our list of the best three degrees to get you there.
Education
Teachers are needed the world over, so getting a degree in education will allow you to work almost anywhere on the planet. Specializing in a particular area will be advantageous when applying for a working visa in your country of choice. This can either be done through a Master's in Education program or through on-the-job training. Depending on where your passion lies, consider the following specialties:

Curriculum development

Leadership in education

Adult education

Elementary education

Early learning

English as a second language

Secondary education

Music

Art and design

Physical education

STEM (Science, Technology, Engineering, Math)
A TOEFL (Test of English as a Foreign Language) Certification can also get your foot in the door to get teaching positions, but your options of countries that will accept this qualification for obtaining a working visa will be more limited than if you had a degree.
Engineering
Engineering offers massive scope for being able to work abroad on a contractual or permanent basis. As you become more specialized, you will be able to pick and choose your placements and likely work in some incredibly remote parts of the planet. In addition to earning a fantastic salary, you can have the opportunity to make a lasting impact in the places you work. Examples of engineering specialties where foreign positions are often available include:

Petroleum engineering

Environmental engineering

Industrial engineering

Manufacturing engineering

Geophysical engineering

Biomedical engineering

Agricultural engineering

Chemical engineering

Material engineering
Nursing
Nursing has always been a highly sought-after and versatile profession. It is now possible to do an online study for registered nurses, which can have you working in various fields when combined with practical training. You might see yourself as a care home nurse, live-in nurse, or based in a hospital. You may also wish to specialize in oncology, pediatrics, or tropical health in years to come, depending on where life takes you.
We can't plan for every possibility in life, but we can work towards our chosen destiny. After all, the difference between a dream and a goal of working abroad is just putting measures in place. A degree in the above fields will open up doors to the world and be a giant leap in the right direction.