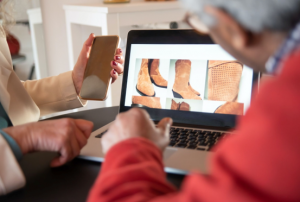 https://www.pexels.com/photo/two-people-looking-at-an-online-store-6667686/
The world of e-commerce is constantly evolving, and offering an exceptional customer experience is key to the success of any online business. Magento, a top e-commerce platform, provides a wide array of tools and features to assist you in crafting the ultimate online shopping journey for your customers. Among these tools are Magento extensions, which can significantly improve your website's performance and enhance customer satisfaction.
In this blog post, we'll discuss 7 Magento extensions that can help you refine your online store and ultimately elevate the customer experience.
Simplified Checkout Process: OnePageCheckout
A major frustration for online shoppers is a lengthy and complex checkout process. OnePageCheckout is a Magento extension that addresses this issue by consolidating the entire process onto a single page.
By streamlining the checkout experience, this extension greatly reduces cart abandonment rates and creates a more user-friendly, efficient process for your customers. And it's just one of many options available in Magento extension development.
Harnessing The Power Of Reviews: Yotpo Customer Reviews
Customer feedback has a significant impact on the purchasing decisions of potential buyers. Yotpo Customer Reviews is a Magento extension that allows you to effortlessly collect and display customer reviews on your website.
Featuring customizable widgets and seamless integration, Yotpo Customer Reviews helps you establish trust with potential customers, leading to increased conversion rates.
Enhanced Website Navigation: Amasty Advanced Layered Navigation
A smooth navigation experience is essential for maintaining customer engagement on your website. Amasty Advanced Layered Navigation is a robust Magento extension that improves your website's navigation by incorporating AJAX filters, price sliders, and multiple select options.
This extension assists customers in quickly finding what they're looking for, reducing the chances of them leaving your site without making a purchase.
Optimize Your Site For Search Engines: MagePlaza Search Engine Optimization Suite
Search engine optimization (SEO) is a critical component of any e-commerce website's success. MagePlaza Search Engine Optimization Suite is an all-inclusive Magento extension offering advanced SEO tools and features to help you optimize your website for search engines.
With this extension, you can easily manage meta tags, canonical URLs, and sitemap generation, among other tasks. This ultimately helps your online store rank higher in search results, drawing in more potential customers.
Real-Time Customer Support: LiveChat Integration
Offering immediate assistance to customers can be a game-changer for your e-commerce website. LiveChat Integration is a Magento extension that incorporates live chat functionality into your online store, allowing you to provide real-time support to your customers.
This not only aids in resolving customer inquiries but also fosters long-lasting relationships with your customers.
Encourage Customer Loyalty: MageWorx Points & Rewards
Integrating a rewards program is an excellent strategy to promote customer loyalty and repeat business. MageWorx Points & Rewards is a Magento extension that allows you to create a flexible and customizable rewards program for your customers.
By offering reward points for various actions, such as making a purchase or referring a friend, you can motivate customers to continue patronizing your store.
Stay Connected With Customers: Aheadworks Follow-Up Email Extension
Maintaining communication with your customers is essential for running a successful e-commerce business. Aheadworks Follow-Up Email Extension is a Magento extension that automates the process of sending personalized follow-up emails to your customers. With this extension, you can effortlessly set up triggered email campaigns based on specific customer actions, such as abandoned carts, order statuses, or customer birthdays. This not only helps in nurturing customer relationships but also contributes to driving repeat business.
Conclusion
In summary, Magento extensions are instrumental in enhancing the customer experience on your e-commerce website. By implementing the appropriate extensions, you can improve various aspects of your online store, including navigation, customer support, and search engine optimization. These improvements ultimately lead to increased customer satisfaction and loyalty, which in turn contribute to the overall success of your e-commerce business. Therefore, investing in the right Magento extensions is a smart decision that can positively impact your online store's performance and customer experience.