Harvard Essay Formatting and Style Guide for Students
Essays are hard enough to write to begin with, but writing it according to the Harvard Essay format is a whole other beast on its own. If you look at any Harvard Style sample paper, you will realize that it is not just a matter of stringing a couple of sentences together in paragraphs, the structure takes on a life of its own. 
From the cover page to the final page, everything has a place and a specific format in which it has to be written. Regardless of how difficult or technical the Harvard formatting rules are, getting to know it is non-negotiable. 
If you want to enter any major university, admission essay topics for Oxford University, for example, all require a Harvard essay format. It might seem tedious and unnecessary, but it gives a certain distinct appearance to all their essays which is professionally pleasing. 
Whether it's controversial topics or anything general, handle it with professionalism and never make biased statements or write something that's offensive. Choosing the right topic is a gamechanger.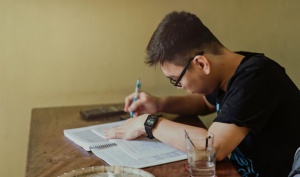 The cover page
The Harvard formatting style requires a very specific format for the cover page or title page. If you look at a Harvard sample paper, you will notice a couple of things. Firstly, the title is always written around the middle of the page in All-caps. 
Secondly, the name and surname of the author are written in small letters three lines below the title. Thirdly, there is another four-line gap and from here you start to write the class, the name of the professor or lecturer, then the name of the school, thereafter comes the city and state and lastly the date. 
Each of these entries is always written on their own line. Once all this info is put in the right order, you can move onto the actual essay.
Putting things in paragraphs
As a novice or an expert essay writer, it sometimes becomes unclear where you need to split your paragraphs. With Harvard formatting, paragraphs also need to adhere to a certain structure. This can be either difficult when your ideas are complex, or it can take the thinking out of your paragraphing and guide you with ease. 
According to the Harvard writing style, the first section is supposed to be captivating and entertaining. It should capture the reader and lead them to want to read further. From there Every paragraph's first sentence should tell the reader what the paragraph is all about. 
The rest of the paragraph should support the opening statement and the last sentence should summarize what the whole paragraph stated. If the writer wants to highlight certain points or add a bit more structure, he or she can make use of subheadings to introduce subtopics. These subheadings should always be written in italics though. 
Citing and technical formatting in a Harvard Essay
There are many citing formats around, but it makes sense that a Harvard essay would use the Harvard style for in-text references. 
When an author's work is cited, the author's surname and initials are used, as well as the year of publication and the page that was referenced. The full citation with the books title and publishing details are then written at the end of the essay in a separate section. 
When it comes to the technical formatting, it is very rigid in what is expected. The essay should always be written in Times New Roman at size 12. Double spacing is always to be used to make the text easy to read and the left-hand margin should be smooth. 
If you struggle to keep to the formatting style, you could always make use of an online essay helper or customessaymeister.com. This will ensure that your essay adheres to the quality that a Harvard essay requires. There isn't much room to change to the format since it is a format used for the highest quality of essays. 
Transitioning between paragraphs
As mentioned earlier, the Harvard formatting style requires a certain structure to the paragraphs. Putting it all together can become tricky, but on the other hand, when your paragraphs fit into this structure, then you know that your ideas are solid. 
This makes it easy for the reader to follow your train of thought and easier for you to get your message across. 
Generally, a Harvard paragraph has three sections, namely a topic sentence, supporting sentences and a closing sentence. 
The closing sentence is dual purpose as it serves the function to summarize what the paragraph was all about and then also introduces the next paragraph. This affords your essay an easy flow and logical order that the reader can follow. 
To conclude
If you are serious about your academic writing, then you don't have much choice in the matter. At first, the format is tedious and you will often become frustrated at the rules that you have to follow, but with everything new, it becomes easier as you practice. 
In the end you will come to appreciate the effort that it took for you to master the Harvard formatting style. Your essays will take a step up in terms of its professionalism, purely based on the aesthetics of your paper. When your essay looks professional, it almost also testifies of the quality of the content of your work as well. It testifies of your character and the effort that you put in. 
Author Bio:
Michael Turner is an academic writer helping students with their thesis, dissertation, and college essays. His has a tremendous level of writing skills and loves to share his expertise with budding writers. In his free time, he unwinds by doing yoga, cooking and playing ukulele.