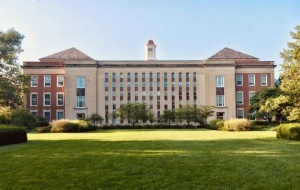 If the pandemic taught us anything, it was that the internet is the future of education. But finding the right college or university with an online degree program you desire can often be confusing. In most cases, you end up perusing a list of schools you've never heard of and have no reference for.
However, there are well-known colleges with top-flight degree programs online out there. Everything from nursing, engineering, liberal arts, teaching, and hundreds of other options. If it feels better and more secure to apply to a well-established school, here's a list of options, ranked highly by U.S.News.
University of Florida
Ranked #3 comes a large university located in Gainesville, Florida. The top 5 online programs sought by students are, in order: Business Administration, Nursing(RN), Public Relations, Criminology, and Psychology.
Their Business Administration degree comes is ranked first in the country. The school requires the same amount of rigor and acceptance qualities that it expects from a student attending traditionally, so there's no concern about getting a second-tier education just because you attend virtually.
Ohio State
Ranked #4, OSU's top 3 enrolled online programs are Nursing(RN), Medical Assisting, Dental Hygiene/Hygienist. If you're looking to go into the medical field, OSU would be a great school to consider.
Not to be overlooked, their graduate studies in the medical field are also considered top-tier. Their Master's program in Nursing(RN) and Psychiatric Nurse Practioner are both ranked in the top 3 while their Pediatric Nurse Practitioner Master's program is ranked #1.
Georgia
If you're looking specifically for a high-quality degree in Special Education/Teaching, then Georgia may be perfect for you. 100% of their online program is formatted around this discipline.
That might seem too hyper-focused, but it's a good sign for anyone looking to have a career working with people with special needs where a degree is essential. But they do offer several more options in their graduate online school where every Master's program is ranked in the top 10 out of 337 schools.
Penn State
If you're looking for a top-tier psychology degree online, then look no further. Penn State is ranked #1. They also offer many online graduate degrees, including 9 that rank in the top 5. These include engineering, education administration, and psychology.
Arizona State
With the #1 Bachelor's program in Business and the #2 program for psychology, ASU is no surprise to be ranked a top ten university in the online degree world. They've been ahead of the curve in the online degree industry, beginning their first programs 15 years ago. They've got one of the biggest online enrollments overall, as well.
But the excellence only starts with the Bachelor's programs. Once you search their graduate ones, you'll see that they are stellar in that area, too. They currently have FIVE #1 ranked online Master's degrees that include instructional media, business, and various paths to an MBA
The Future
The trend is sharply headed in the direction of more online classes being taken by students. In the last few years alone, even without the pandemic, the growth has been 151% and it shows no signs of slowing down. The ability to get a degree at your pace from the comfort of your home gives future students a technological advantage over previous generations.
Of course, you don't have to get a college degree necessarily. But if you choose to, there are many more options for education and training and it's now a viable and popular option to seek out your higher education online.