Since the industrial revolution, we wake up daily to career fields that didn't exist the day before. Most of these follow scientific and technological discovery trends, like the emergence of new forms of psychology, and social media.
These technical fields have developed out of necessity for companies to keep up in an ever- changing world. Even traffic management training has become necessary in a world that's dependent on electricity to guide us where we need to go. This means more job opportunities for everyone, but also the loss of some traditional and long-held jobs.
Keep reading to learn about other relatively new career fields that have great entry level programs for those looking to begin a new career:
Medicine 
While medicine has existed for hundreds of years, the development of new technology in the medical field has made new these jobs even more important and lucrative. Nurses are in high demand, with experts believing that soon there will be a 23% increase in the demand for nurses.
Anyone wanting to start out in medicine should take note, as the average nurse makes $85,200 a year. Other fields like practitioners and anesthetists can make more than 6 figures. The medical industry is always expanding and creating new opportunities for scientific minds, which allows those who practice medicine now to have unlimited future potential.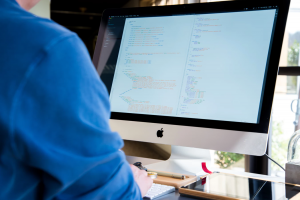 Technology
Information Technology is arguably the most rapidly growing sector, and it's expected to continue as the number one field for the next decade in job growth. A system engineer, who works to develop technological infrastructure, averages a salary of $87,100 a year. This industry is expected to see a 45% job growth in the next 10 years.
Software architect is considered among the most up-and-coming tech careers today. With a job growth rate of 34% and a base salary of $120,000, it is easy to see why training in this sector is attractive for those in tech.
A great entry level job opportunity into the IT field is technology analyst. While data analysts usually begin out as simple number crunchers, the potential to turn this entry level job into a software career is possible. By simply analyzing and organizing data, these workers can expect to make $60,000 with a job growth rate of 30% over the next decade.
Programming & Design
With an increasingly large student debt bubble, jobs that require little to no college education have become a new route for those looking to get out of the traditional college trajectory.
Computer programmers are some of the most in-demand employees of the 21st century thus far, and they can learn without ever achieving a degree. It's possible now more than ever for a budding computer programmer to be self-taught, startup their own business, and work closely with clients that they select for themselves.
Web designers are also currently in high demand, another trade that can be self-taught. Through branding on social media, web designers can advertise their own interfaces, and work with clients to design custom websites for their companies.
App Development
With the development of smart phones, new apps are added to the market every day. There's practically an app for every conceivable thing you can think of using your phone for. It is no surprise that smart phone app developers experience increased job growth year on year. With a median salary of $101,000 and a projected job growth rate of 30%, the need for professional app developers won't be waning for a while yet.
While there is no educational requirement for this job, the typical app development hopeful has a college degree in computer science or a software development field.