It's no secret that not every employee gets on with their boss.
There can be a wide range of reasons for this, from overbearing managers who don't listen to employees to inefficient leadership structures leaving those lower down the ladder unsure about their job roles and responsibilities.
Forbes reports that 58% of managers never even received training on how to carry out their role, so it's no wonder there are issues.
However, for your business to flourish it's crucial that your workforce is united and everyone can work together, from the most senior member of staff to the most junior. To help you achieve this goal, we've come up with four ways to make your employee-manager relationships and communication levels as good as possible.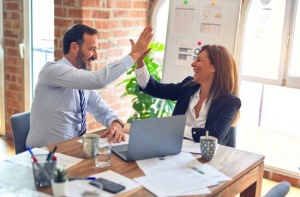 1. Smooth Management Transitions
There's nothing worse as an employee than a manager who clearly doesn't know what they're doing. To prevent this, you must provide new managers with an appropriate level of training and support as they start their role. This will help employees to trust their managers, and help the managers to feel more confident in their position and less likely to be overbearing or timid.
For an in-depth investigation of this topic, you can read a report by UConn MBA Jasdeep Singh which explains exactly how to best carry out this crucial task.
2. Regular Feedback Surveys
One of the best ways to find out what employees and managers think about their relationship is to regularly survey them. This will allow you to quickly discover any issues and remedy them before they cause a more serious rift.
If you're worried that employees may not feel comfortable responding honestly if they have problems, a great idea is to make the surveys anonymous. This way staff can reveal how they really feel about relationships between employees and management without fear that it will harm their job prospects or relationships with colleagues.
3. Take A Training Course
Although there are many things that you can personally do to improve relationships between management and employees, sometimes contacting a professional is the best way to remedy a serious issue.
You don't need to work out thousands of dollars to find an effective service. There are plenty of free human relations and communications courses offered online by Ivy League universities and important organizations, helping you and your term to learn for free.
4. Try Teamwork Activities
Sometimes the best way to help your team bond is to take them out of the office completely. Allowing them to work as a team of equals in a situation that isn't work-related can help them to wind down and have fun, as well as improving team relationships.
You don't have to pick a traditional team activity like outdoor pursuits for this to work. Sometimes simply sitting down to have a meal as a team can help employees and managers to get to know each other as people and build respect.
See Your Team Growing Stronger
If you want your company to work efficiently, it's always best to ensure that employees' needs are being met and relationships between general staff and managers are strong.
International consultancy firm KPMG has reported that as of 2019, only34% of HR leaders are confident in their ability to transform the workforce in the digital era, so prioritizing this will help you to stand out from the crowd and improve your chances of business success.
By using these four simple tips you can help to build a strong and successful team, and see your company flourish.