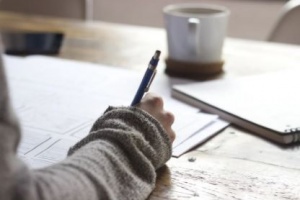 Determining what field of study you are going into is an extremely difficult decision. Not only are you likely deciding while you're young, but there are also many factors to consider. Additionally, you likely have several schools and majors to choose from, further complicating the process. For example, do you want to go to an out-of-state college to become an occupational therapy assistant, or do you want to attend an in-state school to learn how to become a teacher? So how exactly can you narrow down your decisions and ensure that your final choice sets you up for future success? Here's how to choose a field of study. 
Follow Your Passions
One of the best pieces of advice to follow when trying to choose a field of study is to simply follow your passions. Many people say that you should enter into a field with lots of job opportunities that provides you with a high salary, but that isn't always the case. You have to actually enjoy what you're doing for a living. If you choose a path you're not interested in, finding the motivation to study and earn your degree will be extremely difficult. Even if you pull it off, you'll have to work the rest of your life in an industry or field that you don't even like. A common saying is, "When you love something, it doesn't feel like work,"  implying that you'll have a much easier time holding a job you enjoy doing. Before you choose a field of study to enter into, make sure that it's one that you have an interest in or are passionate about. 
Analyze Job Prospects
Although choosing something that you like doing is important, you also can't completely neglect the money aspect of a career either. College is expensive, and for most people, it will leave you with thousands of dollars in debt. That debt needs to be repaid, regardless of what field you enter into. If you enter a field of study that is extremely difficult to find a job in or doesn't pay that well, then the investment you make into college won't really be worth it. You may love art, but if you're not confident in that study's job market, then you may be better off pursuing another one of your interests. Choosing a field of study is all about finding a perfect balance that allows you to enjoy what you're doing but can also set you up for future success. 
Look at Potential Programs
When choosing a field of study, it's extremely important to look at potential programs and what they offer. For example, if you're passionate about biology and medicine, you may find schools that offer a fast-track to medical school. Alternatively, those fascinated by business and marketing may find schools that allow for a completed bachelor's degree and an MBA in just five years. Finding a program that can help you build a career and establish a professional network is extremely important and can set you up for future success. If you find a really great program that aligns with your interests and has plenty of great opportunities, then you should strongly consider entering that field of study.
Make an Educated Decision
Perhaps the biggest mistake that a prospective student can make is deciding on a field of study based on extraneous conditions. For example, you shouldn't choose a field of study and program simply because the university is located in a beautiful town with great weather. You also shouldn't choose a school or field of study based on things like athletics or parties. When deciding what university to go to and what field of study to enter, you should solely look into your interests and your future. Any outside influence from extraneous factors could lead to you making a bad decision that will be costly to correct.