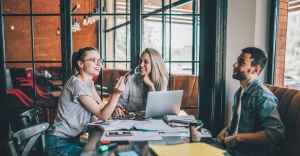 Schools equipped with the Internet have perks compared to institutions that don't. When it comes to various information that are vital to teaching and learning, both students and teachers are not left wanting. They all have access to updated knowledge that books are limited to. 
What Communication Software Can Do For Your Institution 
Back in the days, communication only happens inside the classrooms when lessons are ongoing. Today, developers create software that utilizes technology that works as an online meeting software for students, teachers, and even parents. Thus, information and communication technology (ICT) gives educational institutions an edge.
Below are some of the benefits that a communication software can give your school:  
Improvement in Technological Skills 
Communication software in the classroom setting offers computer-based learning for students. It enhances their computer skills through practical means with academic lessons. 
The teacher allows them access by scanning codes, and the students can upload responses to individualized lessons. Students will learn to navigate, make research, practice troubleshooting issues, familiarize themselves with various commands, and learn how to use different apps or programming with a computer. 
Enables Teachers To Be More Detail-Oriented At Work and In The Classroom
When students use communication software with teachers, they get better guidance with their lessons. Students are also more likely to approach teachers thru virtual messaging if they need help on a certain subject. Because students have different learning abilities, teachers are also highly likely to change their teaching styles to accommodate individual needs.
At the same time, it allows teachers to pay close attention to the lessons and homework they give, especially if there are different tasks and responsibilities for each student. Search engine giant, Google, also recognizes the potential of effective teacher-student communication that they launched their own education platform called Classroom.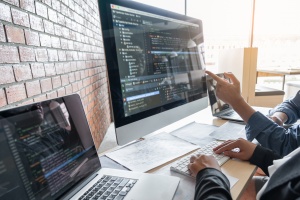 Assists Collaborative Efforts 
Students use such software to share information regarding a school project, activities, or events. Now, the distance won't be a problem because group members can share files with others anytime. 
When working on a collaborative project that involves a massive amount of research, a communication software proves useful for the distribution and gathering of information for academic writing groups. 
The software administrator may allow them access on school premises only or when each are in their respective homes so they can work safely in their preferred environment. 
Communicating Important Reminders 
Some platforms allow both students and parents access so that the teachers can send important memos on tests, events, homework, agendas, and more. It may include a class management system that the teacher can customize and add specific student information. 
This way, the teacher will be able to pass information to the parent that a student may not be keen on sharing with them.  
Lesser Communications Errors 
One of the best things about sending SMS or emails is that the sender is more inclined and careful when sending out information. Errors are easier to spot, and the technology allows editing and resending of messages to multiple people at once. 
The same applies to communication software. Information exchange is faster since it only takes seconds to reach the recipients. 
Records and Stores Information 
Communication platforms have one thing in common: they're programmed to keep the history of sent messages, such as announcements, reminders, and other vital information, especially if it has to do with lessons and homework. This way, students can go back to these messages to review information. 
It's also beneficial when there are important dates to remember, such as project deadlines and exams.  
Students who can't attend classes for valid reasons may receive their lessons and homework online. It also allows teachers to video call students to see how they're doing from home and enable them to discuss missed lessons. 
This way, no student is left behind. It's also beneficial for working students who have the option of learning from anywhere online.  
Allows Families To Get Involved
A communication software, like in social media, can allow an administrator to add parents or guardians into the platform where much of the discussion ensues. The teacher then offers information to the family member about ongoing daily classroom events involving the child. This information is delivered in real-time, and communication is possible through mobile devices. 
The platform allows parents to get more involved with the schooling of their children. It's especially helpful for children under special education. When the teacher is in constant communication with the parents, trust eventually develops, ensuring them that the school cares about the welfare of their children. 
For Meetings or Conferences

  
If you, as a principal or teacher, have no time to attend meetings, you can suggest to the rest of the teaching staff to use communication software. It makes scheduling more relaxed and, most likely, guarantees the attendees to be there. 
The teaching staff can make use of the calendar to schedule important meetings with the rest of the school personnel or with the students' parents.  
In Conclusion 
Bridging the communication gap between students and educators is essential, especially when it comes to learning. That's why developers are finding ways to include the parents so that they can work with teachers to guide their children properly. 
Communication software is vital to lessen the risk of misinformation as well as to keep essential data for reference. During this pandemic, it's also useful for long-distance learning that students of all ages can use to keep learning no matter the odds.