About the journal:
Journal of Medicine, Physiology and Biophysics is a peer reviewed journal. The journal publishes original papers at the forefront of arts and design research. The journal is published in both printed and online versions. The online version is free access and download.
Editorial Board of the journal
Prof. Dr. Ignat Ignatov DSc
Scientisic Research Center of Medical Biophysics, Bulgaria
Dr. Georg Tyminski MD
European Scientifc Socity, Germany
Ass. Prof. Oleg Mosin PhD
Moscow State University of Applied Biotechnology, Russia
Hugo Niggli DSc
Institue BioFoton AG, Switzerland
Ass. Prof. Iliana Yaneva MD
National Center of Public Health and Analyses
About Scientific Research Center of Medical Biophysics (SRCMB) Sofia, Bulgaria
The SRCMB carries out studies in the following directions – structure of water, origination of life and living matter, mountain water and longevity, high frequency color coronal (Kirlian) discharge, nanotechnologies, astrobiology, biological effects in heavy water, entropy and time in living matter, visual analyzer, biophysical fields, biotechnologies. More information about the center can be found here: 
http://www.medicalbiophysics.dir.bg/
About the Chief Editor of the journal
Dr. Ignat Ignatov was born on January 1, 1963 in Bulgaria. In 1989 he majored in physics from "Kliment Ohridski" Sofia University and in the same year he began his professional work in the sphere of medical biophysics. In 1996 he founded the Scientific and Research Center of Medical Biophysics (SRCMB). From 2007 Ignat Ignatov is honorable doctor in European Academy of Natural Sciences (Germany). From 2013 he is Doctor of Science and Professor in The Russian Academy for Natural History.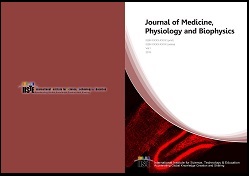 Announcements
No announcements have been published.
Vol 6 (2014)
Table of Contents
Articles
Paper submission email: JMPB@iiste.org
ISSN (Paper) Application Pending
ISSN (Online)Application Pending