International Journal of Scientific and Technological Research is a peer reviewed journal. The journal publishes original research articles as well as review articles in all areas of scientific and technological research studies, including but not limited to,
The scientific method, engineering sciences, mathematics and formal sciences, basic and applied research, scientific impact of research, science community and society.

Emerging technology, economics of technology, evaluations of the impact of technologies, technology and society.

Interdisciplinary research files related to science and technology. The online version is freely accessible and downloadable.
The journal is managed by the Editorial Board of the journal and is technically supported under the hosting platform. The journal is published in online version. Language of the articles can be Turkish (including an English title, author/ affiliation information and abstract) or English. The online version is freely accessible and downloadable.
ISSN (online): 2422-8702
The journal is indexed by Leuphana Universität Lüneburg Germany, Leibniz Information Centre for Science and Technology and University Library, German National Library of Science and Technology, Open Academic Journals Index, Google Scholar, The Library Book, India Ciros Hi-Tech, Engineering Group, Research Junction, Heidelberg University Library, ULI Foundation, StudyLIB, Global Impact Factor: 0.787, Scientific Journals EU, CiteSeerx Scientific Literature Digital Library, Universität Vechta. Under review by Scopus and ISI Web of Knowledge.
IISTE is a member of CrossRef. The DOI of the journal is: https://doi.org/10.7176/JSTR
JSTR charges a fee - regardless of acceptance / rejection - when submitting an article.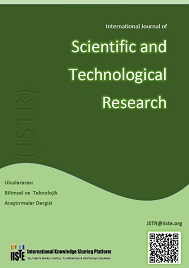 Announcements
Call for papers

Submission deadline: review of submissions is on a rolling basis. All the submissions will be processed by the editors / reviewers soon after submission.

Publication time: the journal publishes monthly on the last day of each month.

Article publication charges: 80 USD (online publication) Hard copies also available upon request.

Submission process: Prepare the manuscript based on the template here and send it to JSTR.editors@gmail.com

in MS WORD format with a clear declaration including that,

The submission is original,
The submission is not being considered elsewhere,
There is no conflict of interests and,

The authors agree to grant the journal for the first editing / publishing rights upon the acceptance of the article.

All papers submitted will be evaluated by at least 2 (two) reviewers. In case of positive opinion of the reviewers, papers are published with the approval of the editor. Publication period of the papers is related to reviewers evaluation processes.

The journal started the 1st edition in 2014.

Posted: 2015-02-01

Editorial Board

•          Prof. Dr. Marian Marciniak, National Institute of Telecommunications, Department of Electrical and Electronics Engineering, Poland & University of Nottingham, UK

•          Prof. Dr. Ali Keyhani, Ohio State University, Department of Electrical and Computer Engineering, Columbus Ohio, USA

•          Prof. Dr. Hasan Riza Ozcalik, Kahramanmaras Sutcu Imam University, Department of Electrical and Electronics Engineering, Turkey

•          Prof. Dr. Faruk Yildiz, Sam Houston State University, Department of Agricultural Sciences and Engineering Technology, Huntsville, TX, USA

•          Prof. Dr. Ahmed Kadhim Hussein, Babylon University, Department of Mechanical Engineering, Iraq

•          Prof. Dr. Mohamed Zribi, Kuwait University, Department of Electrical Engineering, Kuwait

•          Prof. Dr. Pedro Pinho, Instituto Superior de Engenharia de Lisboa, Department of Electrical and Electronics Engineering, Portugal

•          Prof. Dr. Bekir Sami Yilbas, King Fahd University of Petroleum and Minerals, Department of Mechanical Engineering, Saudi Arabia

•          Prof. Dr. Fawzi M Al-Naima, Nahrain University, Department of Electrical and Electronics Engineering, Iraq

•          Prof. Dr. Fatih Unes, Iskenderun Technical University, Department of Civil Engineering, Turkey

•          Prof. Francesco Saverio Capaldo, University Federico II of Naples, Polytechnic School and Basic Disciplines, Department of Civil, Construction and Environmental Engineering, Italy

•          Prof. Dr. Zbynek Raida, Brno University of Technology, Department of Radio Electronics, Czech Republic

•          Prof. Dr. Amedeo Andreotti, University of Naples "Federico II", Departement of Electrical Engineering and Information Technology, Italy

•          Prof. Dr. Valentín Pérez-Mellado, University of Salamanca, Depatment of Animal Biology, Parasitology, Ecology, Edaphology and Agronomic Chemistry, Spain

•          Prof. Dr. Esam M. Alawadhi, Kuwait University, Department of Mechanical Engineering, Kuwait

•          Assoc. Prof. Dr. Ahmet H. Ertas, Karabuk University, Department of Biomedical Engineering, Turkey

 

Posted: 2015-02-01
Vol 7, No 10 (2021)
Table of Contents
Articles
ISSN (online) 2422-8702