Chemical and Process Engineering Research is a peer reviewed journal published by IISTE. The journal publishes original papers at the forefront of chemical engineering, process management and instrumentations. The journal is published in both printed and online versions. The online version is free access and download.
IISTE is member of CrossRef.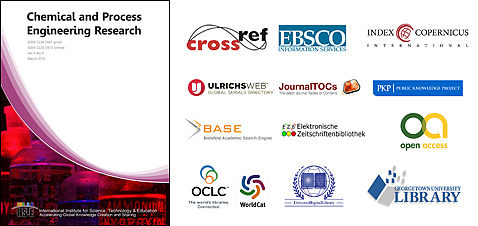 Vol 34 (2015)
Table of Contents
Articles
Paper submission email: CPER@iiste.org
ISSN (Paper)2224-7467 ISSN (Online)2225-0913
Please add our address "contact@iiste.org" into your email contact list.
This journal follows ISO 9001 management standard and licensed under a Creative Commons Attribution 3.0 License.
Copyright © www.iiste.org